/
/
/
Anderson, Diane
Last modified: April 12, 2019
Anderson, Diane
If you have any questions or comments regarding the programs or links on this page, please contact Diane Anderson at dianea@provo.edu
Visit the Study at Home page for access to the computer programs our students use in school.
We are fortunate to have computers and other technology available to help us learn here at Amelia Earhart!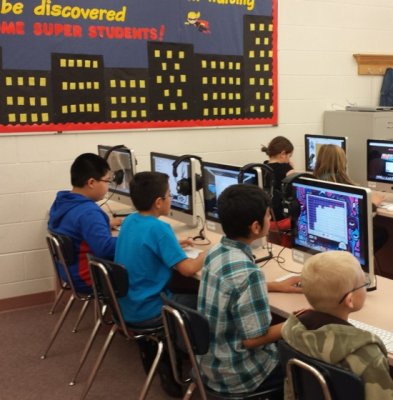 Currently, we have seven mobile computer labs that are networked with wireless Internet and are used throughout the day for intervention time and testing and are available for projects and writing practice. We are also excited to have  desktop computers in our two computer labs which will help with our intervention time. Our school is also fortunate to have some really amazing programs the students work on during Intervention time. Each grade level has the opportunity to work on the computer for both Math and Reading Interventions twice every day (with the exception of Kindergarten which just works on Reading.) All K-1 students work on Imagine Learning for Reading.   Imagine Learning is built for the Common Core and provides individualized instruction for students.  Grades 2-6 work on Typing Club to improve their keyboarding skills. There are also desktop computers in every classroom that are networked to the Internet that students use to enhance their learning experience. Each classroom is also equipped with a Promethean Board which allows teachers to prepare interactive lessons for their students. We also have eight classrooms that have their own 1:1  Chromebook labs.